French exam preparation
Intensive Plus DELF B1
If you want to register for the DELF B1 exam, take our intensive Plus DELF B1 course, which helps you improve your linguistic level and language skills. Passing the exam will enable you to prove your language level.
Plus DELF B1 intensive course to pass your exam: training, preparation and practice for DELF B1. Generally speaking, the B1 language level assesses your ability to express yourself in French in everyday situations.
Improve your French and prove your language skills with an official, recognized diploma.
With our intensive Plus DELF B1 course, you'll have every chance of achieving the linguistic level you want.
Open up new opportunities with the intensive Plus course B1.
An intensive formula with personalized preparation to ensure you achieve your objectives.
An efficient training rhythm to improve your language skills with 20 French lessons per week before your DELF B1 registration. These are divided into 4 French lessons per day from Monday to Friday and 6 DELF B1 exam preparation workshops.
With 20 general French lessons, you'll work on all 4 language skills to improve your linguistic level. In this way, you develop your written and oral skills. Maximize your chances of passing the DELF B1 exam.
Intensive Plus DELF B1 : content of the 6 workshops
In contrast, the 6 DELF preparation workshops are focused on passing your exam. The content is therefore focused on exam methodology. You'll have the opportunity to practise on typical exercises, but also with progressive interactive activities to help you express yourself in French and improve your language skills. Finally, continue independently via our online platform, to which you have unlimited access. Written and oral comprehension are worked on independently.
For oral expression, benefit from personalized coaching from our teachers. They will give you personalized feedback on your performance on exam-type exercises.
DELF workshops
Your DELF B1 preparation workshops are organized into 6 45-minute sessions per week:
Independent listening comprehension: 1 lesson of 45 minutes
Independent reading comprehension practice: 1 lesson of 45 minutes
Written expression test: 2 workshops of 45 minutes each for independent work and production + individual feedback from your teacher.
Speaking workshop: 45 minutes of practice for the speaking test on our platform
15-minute speaking session with your teacher
Every week, you take part in a 15-minute simulation of the oral exam. This simulation takes place on a one-to-one basis with your teacher, who will help you to progress (methodology, phonetics, vocabulary, etc.).
Need some advice? Contact our team for advice on registering for DELF B1.
This course is also available online. See this page for more information!
INFORMATION
RYTHM
26 lessons of 45 minutes from Monday to Friday
COURSES DATES
Every Monday
SCHEDULE
Intensive course: Mornings from 9.30am to 12.30pm or afternoons from 2pm to 5pm
DELF workshops: available on the platform 24 hours a day, one meeting per week between 5 and 6pm.
LEVELS ACCEPTED
B1 and B2 (intermediate)
NUMBER OF PARTICIPANTS
1 participant
Intensive Plus DELF B1
Intensive Plus course B1
First of all, to certify your linguistic level you can pass the DELF B1 exam. It indeed, accredit your level of English DELF B1. Then, visit the south of France. To continue, you should visit Montpellier.
Besides, coming to France is the best way to improve your language skills. Furthermore, we also have courses for beginners. Of course, if you're not a beginner you can choose among all our courses. For example, you can suscribe to our intensive course. On the other hand, if you prefer to combine culture and courses feel free to have a look at our different packages. To conclude, you can come to Montpellier for both culture and courses.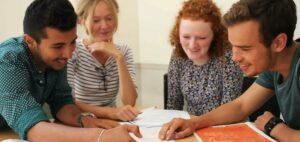 Linguistic level
Language level
To get started, coming to France to improve your level is a brilliant idea. Obviously, you'll speak to native speakers. As a result, you may have a better accent. However, to make sure to pass the DELF exam register to our intensive Plus DELF B1.
Language skills
What's more, our school is located in the city center. Secondly, there are plenty of activities to do in Montpellier. For example, cheese or wine tastings. After all, France is a place of gastronomy. Then, we also have sport activities.
Improve your French
To begin with, make sure to progress in French with our classes. Secondly, choose your stay in Montpellier. Indeed, you have several choices. For example, family stay. However, you can also select our private residence. Then, you can enjoy the city.
To conclude, come to see us. What's more, contact us.