Online DELF DALF preparation
DELF B1 intensive online courses
Pass your DELF B1 exam online with a teacher of the Alliance Française and take part in online test preparation courses.
Develop your French level and learn the language every day with your teacher and classmates.
Practice for the DELB B1 exam with courses designed to prepare you for the DELF B1 exam.
Benefit from the advice of an experienced trainer to prepare candidates for DELF B1.
Practice French every day for 3 hours and reach level B1 for the DELF exam.
Oral and written comprehension practice (1h): a new topic each day
First of all, you'll log on to our learning platform every day when you're available, and you'll take part in interactive listening and reading comprehension activities, vocabulary memorization activities and new general French expressions.
Oral expression practice with a teacher (1h): speak French every day and become fluent in no time!
Secondly, you will have speaking activities in mini-groups to develop your oral fluency in French for the speaking test. You will also develop your vocabulary with your teacher via videoconference.
Online preparation for oral and written expression and oral and written comprehension tests (1h)
Finally, you'll practice for the DELF B1 exam by logging into our learning platform every day, depending on your availability. You'll make progress thanks to our teachers, who will correct your oral and written expression exercises asynchronously, with the aim of passing your exam.
You'll also take mock DELF B1 exams online, so you can practice in real time and get the best score for your exam.
The advantages of our method: a qualified and experienced teacher accompanies you throughout your training.
Your Alliance Française teacher helps you and answers all your questions
In this way, you receive personalized feedback from your teacher and make rapid progress.
Finally, you develop your oral and written skills every day, according to your availability, so that you get the best results on the day of your DELF B1.
To register for the DALF C1 online course, click here!
Information
Rhythm.
5 hours per week in videoconference with your teacher,
5 hours of fun activities on our teaching platform,
and 5 hours of online preparation for the DELF B1
Course dates.
Monday to Friday
Schedule.
Videoconference from 3pm to 4pm or from 4pm to 5pm
Limited access to our pedagogical platform
Levels accepted.
A2 or B1 (Intermediate)
Number of participants.
3 to 10 participants
I participate in the DELF B1 online intensive course
To pass my DELF B1 exam, I want to practice every day online with my teacher and independently!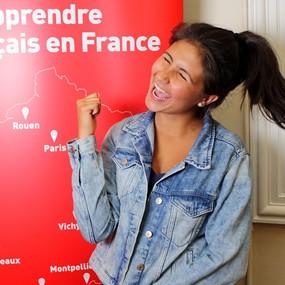 DELF B1 online
Preparation for the DELF B1
DELF B1 online courses to pass the French exam, online preparation for the DELF B1 test, Alliance Française Montpellier
French examination
Firstly, book our French courses. Secondly, learn French with our French language school. Thus, learn French. Furthermore, improve your French with our intensive French course. Moreover, we have French course for beginner in Montpellier. Nevertheless, enjoy our French immersion programs with our school. Because we offer the best French courses. Therefore, choose our DELF preparation lessons. Thus, learn French. Moreover, we also have DALF preparation in face to face. Thus, learn French in Montpellier. Furthermore, online DELF classes.
Online courses DELF B1
Firstly, learn French with Alliance Française. Then, improve your French. Furthermore, pass the DELF B1 exam. Thus, French online courses. Therefore, book your French courses. Then, DELF B1 exam.
Thus, learn French. Moreover, we also have DALF preparation in face to face. Thus, learn French in Montpellier. Furthermore, online DELF classes.